Forever Foundation Repair in Findlay, Ohio
Forever Foundation Repair has served Flag City USA for over a decade with reliable, custom solutions.
Our homes encounter extreme weather every year. Over time, flood events, high winds, heavy rains, and snowmelt, will move the soil and foundations of our homes. This will cause foundation cracks, which lead to moisture in basements and crawl spaces, misaligned windows, and doors, leaning chimneys and cracked bricks.
For Homes in a Flood Zone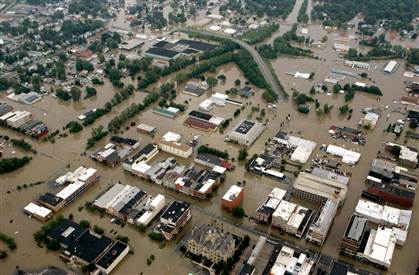 Floods are devastating. When the Blanchard River swells, your home doesn't stand a chance. The past 10 years have been especially bad for the Findlay area as heavy rains have caused the Blanchard to spill its banks.
As we well know, floods cause massive amounts of property damage. Swift moving river waters quickly erode and move the soil your home rests on. This movement puts extreme hydraulic pressure on the sides of your foundation and basement walls in ways they are not engineered to withstand.
If your home has been subject to one of the many Blanchard River flood events in recent years, it is almost guaranteed to have structural damage. If you question the structural integrity of your home, call us today for a free inspection.
We Are Independent
Forever Foundation Repair has the experience and expertise to solve any of your home's structural woes. We customize our work to each specific home and problem in a way only an independent, locally owned company can. Because we call this area home as well, we know Northwest Ohio's weather and homes like the back of our hand.
If you notice symptoms of structural damage of any kind, and you live in Findlay, or anywhere in Hancock County, contact us for a free, no obligation home visit. We'll give you an honest, no pressure assessment of your home's structural needs. We care about your and your home. If your home doesn't need our services, we'll tell you that too.
Our Services
Foundation Repair
We use state-of-the-art helical piers and helical tie backs to restore your broken foundation to its original level state, making doors, windows, and other elements of your home, functional again.
Basement & Crawlspace Waterproofing
Prevent mold and mildew by letting us install water management systems under your home.
Foundation & Wall Replacement
Sometimes damaged structures are beyond repair. We are experts at knowing when replacement is necessary, and then executing lasting replacements efficiently.
Waterfront Retaining Walls
If you live on the banks of the Blanchard or its tributaries, you know how hard it is to keep erosion from eating away at your property line. Forever Foundation Repair has the only custom solutions in Northwest Ohio for installing, repairing, and replacing bowing sea walls.