From crawl space encapsulation to specialized vapor barriers, our expertise ensures your crawl pace is properly vented, drained, insulated and sealed.
Standing Water In The Crawl Space
– Install drainage tile around the inside perimeter of the crawl space
– Lifetime Transferable Warranty
In the instance of standing water, we dig a trench around the inside perimeter of the crawl space (6in. wide x 8in. deep). Then, we install four-inch drainage tile around the inside perimeter of the crawl space and connect them to the sump basin. Finally, we cover drainage tile with gravel to catch and drain water in the crawl space.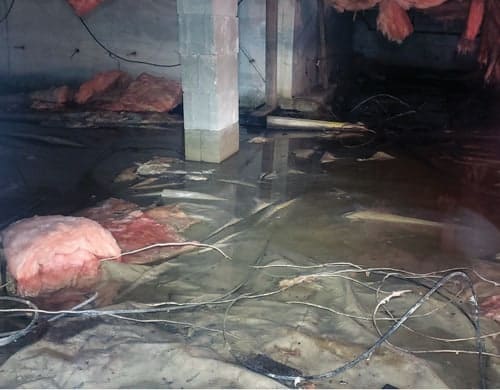 Cover Crawl Space Floor With Drainage Mats
– Cover crawl space floor with drainage mat
– 25-year transferable warranty.
A drainage mat covers muddy crawl space floors and protects the encapsulation.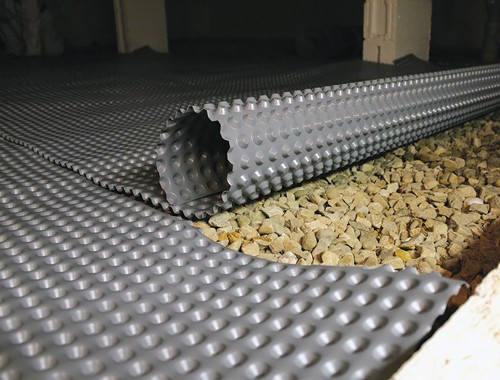 Closed-Cell Spray Foam On The Rim Joist
– Spray foam seal plate and band board area
– Lifetime transferable warranty
By using closed-cell spray foam on the rim joist, we can stop airflow, which lowers crawl space humidity and stops the rim joist from sweating.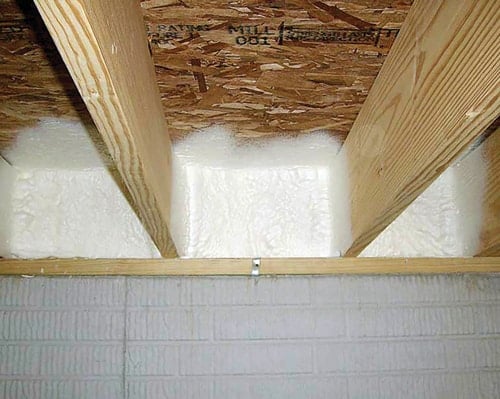 Wrap Interior Crawl Space Walls With 90 Mill Radiant Barrier
– Wrap interior crawl space walls with 90 Mil. insulation
– 25-year transferable warranty
This barrier blocks moisture and reflects 98 percent of heat energy back into the crawl space.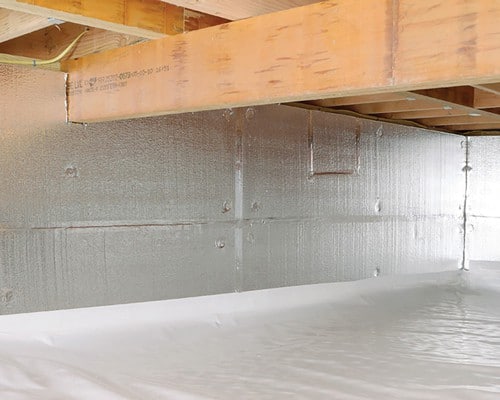 Wrap Crawl Space Floor And Walls With Raven 20 Mil Encapsulation
– Wrap crawl space floor and walls with raven 20 Mil. crawl space encapsulation
– 25-year Transferable Warranty
The Raven 20 Mil White String Reinforced Polyethylene consists of outer layers of white high-strength virgin polyethylene film laminated together with a black layer of molten polyethylene. Both outer layers contain UV inhibitors and thermal stabilizers to ensure a long life as it blocks out moisture, humidity, and insects from the crawl space.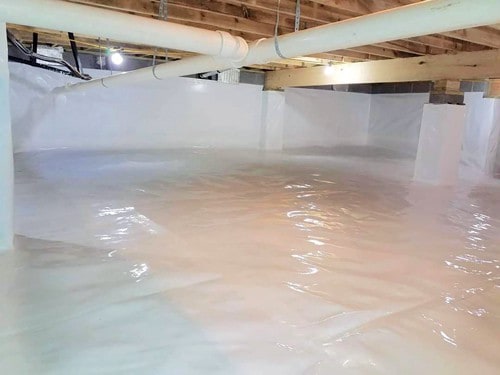 Request A Free Quote
Contact us for a no-cost consultation to determine how best we can repair your bowing walls and give your basement the stability your home deserves.