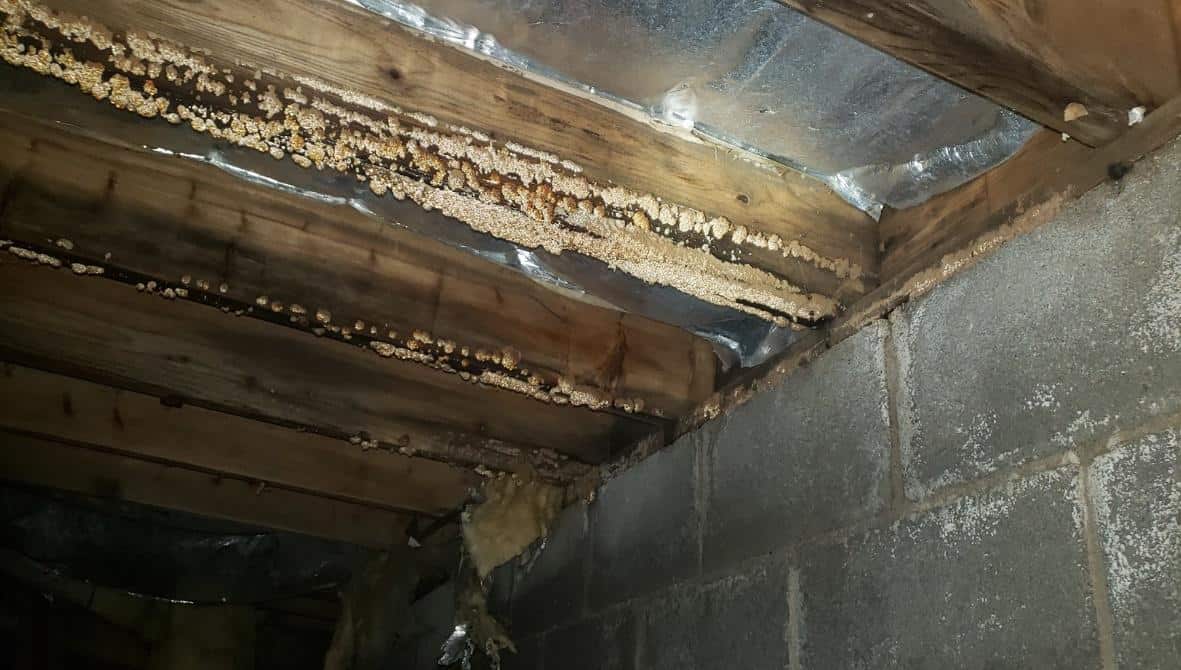 Crawlspace Encapsulation and Crawlspace Repair
The condition of your crawlspace is not something most people think about until they start to smell nasty odors or notice structural problems. Forever Foundation Repair can do a thorough Crawlspace inspection to look for problems and provide solutions before they develop into major structural issues.
During a crawlspace inspection, Forever Foundation Repair will look for the following things that could potentially be or lead to major problems:
Water intrusion, standing or puddled water on the crawlspace floor. 
Downspout drainage making sure downspouts are properly draining away from the house.
Crawlspace sweating, sweating can occur on the sill plate, Band board, floor joist, and ductwork due to a wet crawlspace and high humidity levels. 
Open crawlspace vents that let water pour into the crawlspace.
Saturated moldy insulation due to crawlspace moisture.
Mold, mold grows easily in crawlspaces and can be found on wood, insulation, block, and in ductwork leading to severe allergy and asthma problems.
Rusted and rotting ductwork due to moisture and humidity in the crawlspace. 
Dry Rot, dry rot can occur when Fungi grows on the floor joist and wood beams in a crawlspace digesting parts of the wood causing the wood to crumble and fall apart.
Leaking water lines drains, pipes and furnace drain lines that drip in the crawlspace. 
Sagging floor joist and main beam failure due to improper construction and high moisture levels softening the wood.
The main beam supports, main beam supports are commonly spaced too far apart causing the supports to be overloaded and sink into unstable soils. 
Amateur repairs on sagging main beams and floor joists that have failed.
Cracks in the concrete footing or block wall that may indicate the foundation is sinking. 
Forever Foundation Repair has Crawlspace solutions to prevent major problems. 
Forever Foundation Repair Crawlspace Encapsulation and repair process to permanently fix your home.
Rotted wood is removed and replaced. Mold is sprayed and removed with Anabec. Sagging Floor joist and beams are supported with the Power jack system. Exterior crawlspace vents are capped to stop water from flowing through the opening. Drainage tile is installed around the inside perimeter of the crawlspace to collect the water as it pushes up through the crawlspace floor. Drainage tile is connected to sealed sump basins. Pea gravel is poured around the drainage tile and sump basin. Sump pump and battery backup systems are installed in the sump basins to discharge the collected water. Drainage mat is installed on the crawlspace floor. Foundation walls are insulated with a Radiant barrier. The Crawlspace floor and walls are covered with Raven 20 Mill Crawlspace Encapsulation. The sill plate and band board area are spray foamed and a Santa Fe Dehumidifier is installed to control the humidity.
Benefits of Crawlspace encapsulation:
Crawlspace Encapsulation will Lower heating and cooling bills. 
Crawlspace Encapsulation will preserve heating and cooling equipment.
Crawlspace Encapsulation will prevent mold and fungus in the home creating a healthy safe living environment. 
Crawlspace Encapsulation will prevent wood rotting.