Interior waterproofing is an effective and economical solution for a leaky basement when installed correctly.
Basement floor seams are the most common point of leakage in basements and need special attention. Our system provides whole basement water management and protects against issues such as outside pressure that forces water through imperfections in the concrete floor or foundation walls.
The systems we use is inconspicuous when installed and allows water that may be trying to seep through the wall or seem to be caught by a waffle board and transferred beneath the slab to a drain tile and to a sump pump for evacuation from the area.
Our clean, quick and simple process:
Plastic hung over doorways, rugs put down to keep home clean
Basement floor is cut with electric wet saw to make straight even lines
Concrete removed along interior perimeter of wall
Trench created along wall
Holes drilled at base of block wall, allows water to drain into system
Drainage system installed
Standard sump basin can be installed or our 40-gallon sump basin with a pro series sump pump with optional battery backup system that can run intermittently for days
Stone covers drainage system and sump basin to keep dirt away
Cover drainage system with concrete matching existing floor
Innovative Drainage Channel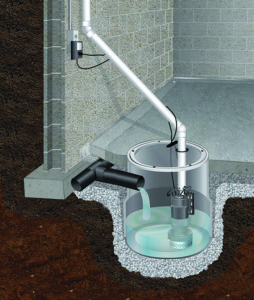 Key features
Innovative drainage channel is designed to keep your basement dry and healthy
Easy and clean to install
Clog-proof system
Water shield sits on footer to transfer water from wall to drainage system
Drainage system installed beside the footing to transfer water to sump basin
Large drainage holes allow for sufficient water flow
Collects water from exterior walls, under footing and under floor
Lifetime warranty
---
Verso Drain System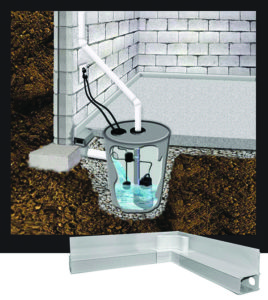 Key features
Verso Drain System is designed to keep your basement dry and healthy
Easy and clean to install
Clog-proof system
Drainage system sits on footing collecting water and transferring water to sump basin
Large drainage holes allow for sufficient water flow
Collects water from exterior walls
Installed on block and concrete walls
Inspection ports to inspect system
Lifetime warranty