Cracks do not always mean structural issues, it may simply be a cosmetic issue.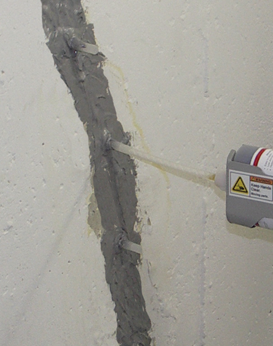 Concrete shrinkage often occurs during the curing process and can cause minor cracks and is not always a sign of structural problems. However, even cosmetic cracks can leak and allow water into your basement. Our foundation experts can help you determine if the damage is structural or nonstructural. If only cosmetic damage is present, a low-pressure epoxy injection can repair the damage and bond the concrete.
Our Simple process:
Crack is cleaned
Plastic ports epoxied on wall
Epoxy is spread around the ports and over the crack
Low- pressure urethane injected into ports filling crack from inside out
Caps are installed
Mess cleaned and problem solved
Contact Forever Foundation Repair for an obligation free assessment of cracks and leaks in your basement.