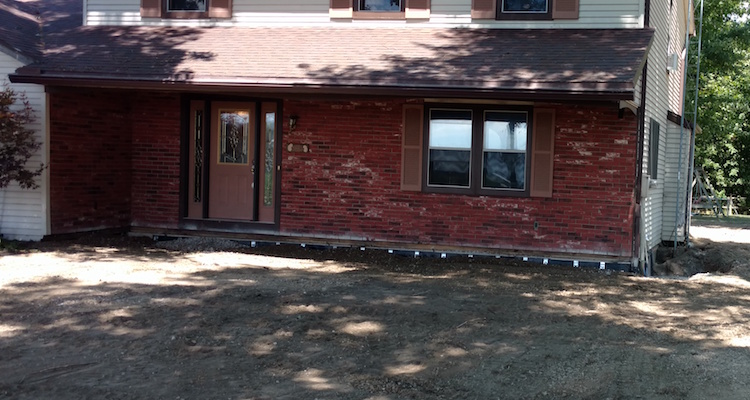 A homeowner in Defiance, Ohio called us to his home to repair a concrete basement wall that was cracked and bowing inward. After the initial estimate, the homeowner decided to have us waterproof the basement and straighten the concrete basement wall.
Beginning The Job
We covered the front porch with plastic to protect the windows, then cut out and removed the concrete porch.  We then excavated under the porch and around the whole basement down to the footer, then pressure washed the walls clean.
Repairing The Basement Wall And Finishing The Job
On the side wall we cut a larger opening so the homeowners could have larger window installed. On the rear wall we installed 5 galvanized helical tiebacks that we drilled 20 feet into load barring soil.  Using the torque created by the tiebacks, the wall was pulled back straight.  These helical tiebacks are the strongest and most reliable basement wall repair system on the market.
We sealed the cracks in the concrete wall with epoxy.  Then we installed new crush proof footer tile to the walls where the rubberized coating and delta water barrier were installed for waterproofing.  Next, we trenched the downspouts out to the pond on the homeowner's property, backfilled the trenches with 80% stone and dirt to grade.  This job was completed in 5 working days, and the homeowners now have a solid, dry basement with a 25 year warranty.  If you have bowing basement walls or a wet basement in Defiance, Ohio or the surrounding area, call Forever Foundation Repair today!